The EXPORT Company Showcase Campaign
The Export Company Showcase Campaign will be highlighting companies committed to working with Indigenous people.
A mentorship ad will highlight the company and a personal testimonial of an Indigenous person or business you have employed. You will also be featured in one of our monthly advertorials in Eagle Feather News, promoted through social media, highlighted on exportdata.ca and spotlighted on posters and promo cards being distributed to communities and their leadership all across the country. Global News will create awareness for all profiles on exportdata.ca while also featuring three companies on a 3 part Global News series that will launch the campaign.

---
Corporate Membership in Export
Join our marketing campaign and you will receive all the benefits of corporate access to the EXPORT database for 12 months (a $5000 value)!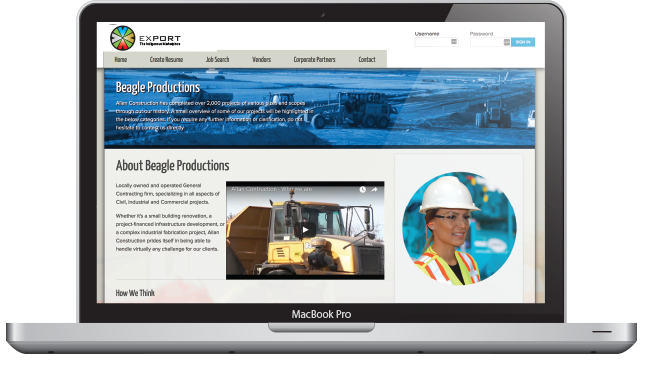 Corporate Membership Includes:
Company Profile
Unlimited job and procurement postings
Competency Posting with training opportunities
Procurement and search reports
Prequalified Vendors
Qualified Vendor Search
Individual profile and search reports
Qualified Resumes View
Trades apprentice searching and recruitment
Inclusion Reports
Administrative Support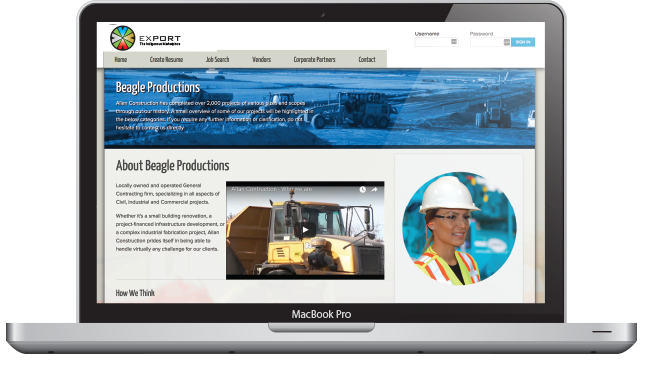 ---
Enhance Your Corporate Citizenship
In addition to the benefits you will receive by using the EXPORT tools provided in your Corporate membership, your participation also ensures that Indigenous Communities have access to additional opportunities.
You will be helping local communities and people maximize business and employment opportunities where you operate.
Community Benefits Include
Member Data and Reports
Training Forecasts
Tools for Labour Force Development
Resume Builder
Training Opportunities
Job Opportunities
Procurement Opportunities
What's Included
EXPORT is kickstarting our Company Showcase Campaign, which begins May 26th 2017. The campaign will highlight companies who have a desire to successfully engage with Indigenous Communities and will include:
Posters and Promotional Cards in Communities across the country (you may identify communities you would like to be specifically highlighted in)
Monthly Advertorial in Eagle Feather News*
Social Media Promotion*
EXPORTDATA.CA web feature and monthly email campaign
Global News 3 part feature will launch the campaign
*Each month a highlighted company / employee
Key Dates
Companies Selected: Now - May 15th, 2017
Photo shoots and interviews with leadership and featured employee: April 17th - May 19th, 2017
Posters and Promo cards Print Deadline for logos: May 19st, 2017
Global News 3 part feature series: Launches May 26th, 2017*
Launch on EXPORTDATA.ca (all profiles): May 26th, 2017
Print Distributed to Communities: June-July 2017
Monthly Features begin: May 26th, 2017
*Broadcast schedule subject to change
Cost
EXPORT is the most effective way to engage Indigenous communities when looking for employees or contractors. Becoming a part of the EXPORT Company Showcase Campaign will showcase your company, showing you are committed to local inclusion and engagement with Indigenous people, communities and businesses.
Invest in YOUR Corporate Social Responsibility today!
$7,500 For Company Showcase Campaign Participation*
$10,500 Includes Corporate Promotional Video**
*Includes Corporate Membership to Export. Travel to shoot photos or video may be incur additional costs.
**Includes Corporate Membership to Export. Global New Piece is Limited to the first 2 companies to sign up. All Companies will receive a corporate video to post on company website and other social media channels. Travel to shoot photos or video may be incur additional costs.